After reading this, you'll never buy drugstore sunscreen again!

Posted at 11:00 • 14 MAY• NVBL • Brands
---
It's shocking how little beauty care products are regulated in this country. You may be aware of the more infamous toxic ingredients (parabens, phthalates, and the like) that are ubiquitous among mainstream beauty products. But there's another category of products that are made from entirely different toxic ingredients that are of equal concern. Here's what you need to know and some of our tried and true, safer, and overall far more outstanding alternatives.
Until recently, most sunscreen manufacturers have used a variety of ingredients to mitigate sun damage. If you check the sunscreen in your bathroom cabinet right now, you'll most likely find it contains some or all of the following active ingredients:
Avobenzone
Homosalate
Octinoxate
Octisalate
Octocrylene
Oxybenzone
These ingredients, among others, are currently deemed acceptable by the FDA, but with a note that further research is needed to evaluate unintended and detrimental effects. This was a red flag to us, so we dug into it.
We turned to the Environmental Working Group's 2020 guide for more information. According to their investigation, the FDA's sunscreen guidelines are way outdated (by about 40 years). Plus, they don't take into consideration all the research that demonstrates the detrimental effects of UVA rays and harmful sunscreen ingredients that are absorbed into the bloodstream. The FDA has made efforts to implement significant changes, but none of the rules have ever passed.
Recent FDA tests show that after just one application of sunscreen, the six ingredients mentioned above are absorbed through the skin, in significant amounts, and continue to be absorbed over the course of several days, possibly longer. Each of these ingredients is known to cause skin allergies and several may disrupt hormones.
The standout is oxybenzone, a known allergenic and potential hormone disruptor, which is absorbed into the blood at much higher levels than the rest. Children, in particular, appear to be most adversely impacted by this chemical because of the potential for higher absorption and bioaccumulation. The FDA is working on additional studies to investigate these concerns. Of the 1,300 sunscreen products tested by the EWG in 2020, 40% contained oxybenzone.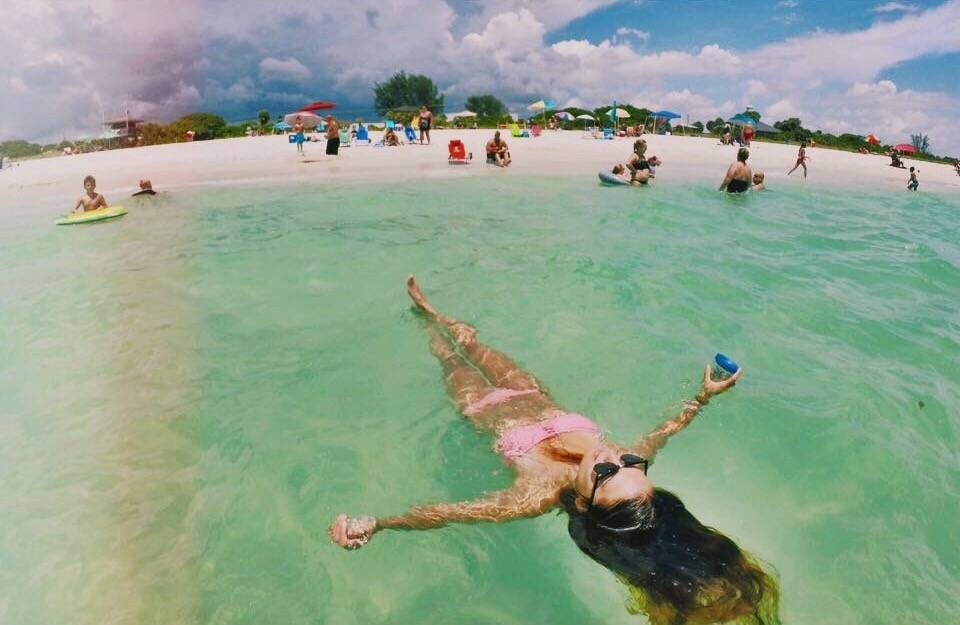 Sunscreen's effect on our oceans

What's even more alarming is that in oceanic regions where coral reefs thrive, mainstream sunscreens have been banned because of their damaging effects on the marine environment. Oxybenzone is the primary culprit. It disrupts reproduction and growth cycles of sea life, bleaches, damages, and sometimes kills coral and causes deformities in other sea creatures. These chemicals are proven to be highly toxic to marine life, and yet we continue to slather them on our skin.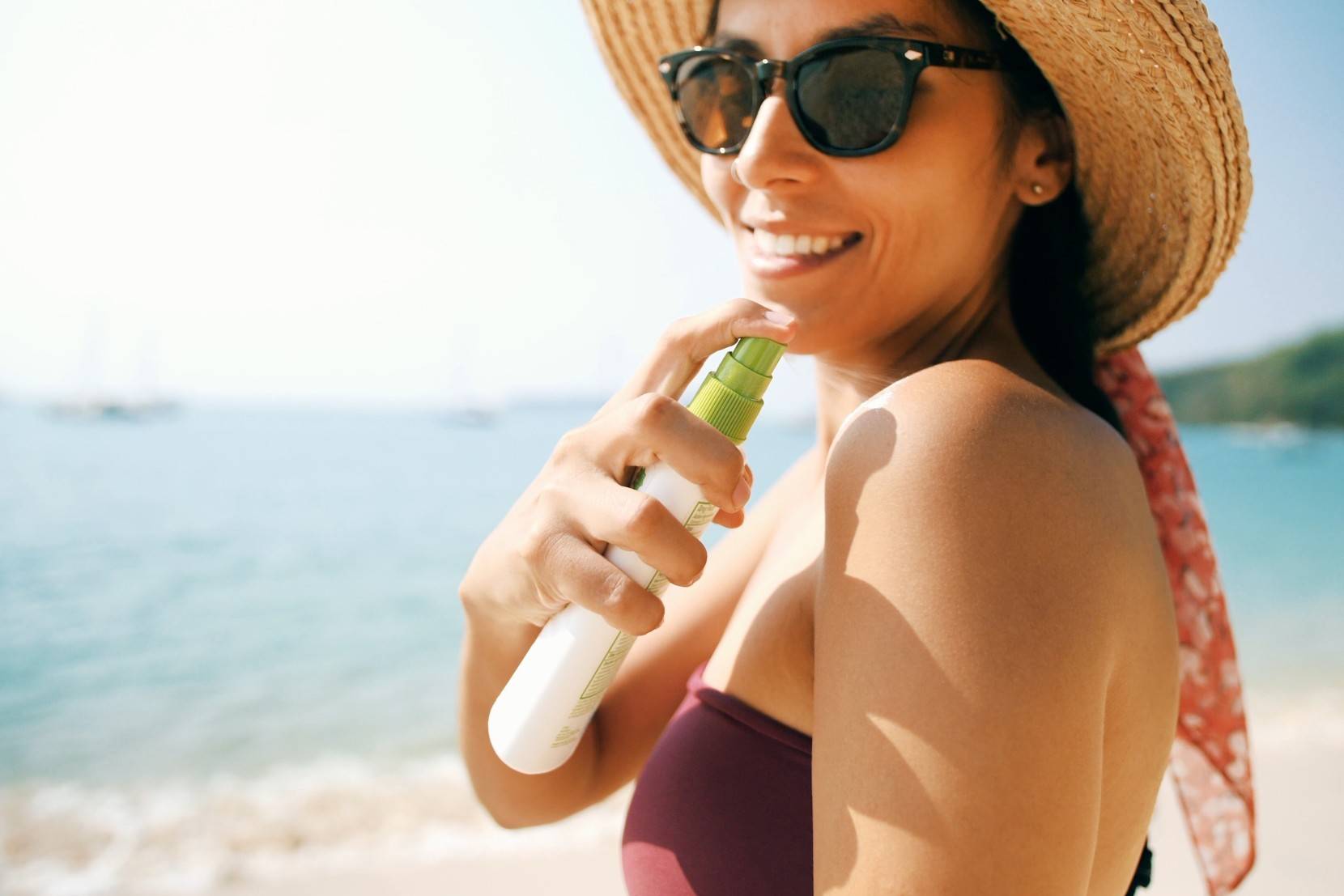 Our journey to clean sunscreen

Growing up in Utah's high desert, our co-founder Margaret learned early on to cover her body, head to toe in sunscreen. It wasn't until years later, after she had begun her clean beauty journey, that she learned how misled she'd been. In truth, she was smearing unhealthy chemicals all over her body. And the UVB-only sunscreens gave her a false sense of protection.  
Since this realization, Margaret and her team have spent years trying every mineral-based, natural sunscreen on the market. When it comes to mineral sunscreen, there are some major hangups. Most notably is their historically poor ability to absorb, leaving the user white as a ghost. Some ball up, some separate in the bottle. Others cake up so badly that you can't even squeeze them out of the tube. Finding the perfect sunscreen was and continues to be a long process.
Margaret and her team have spent years trying every mineral-based, natural sunscreen on the market.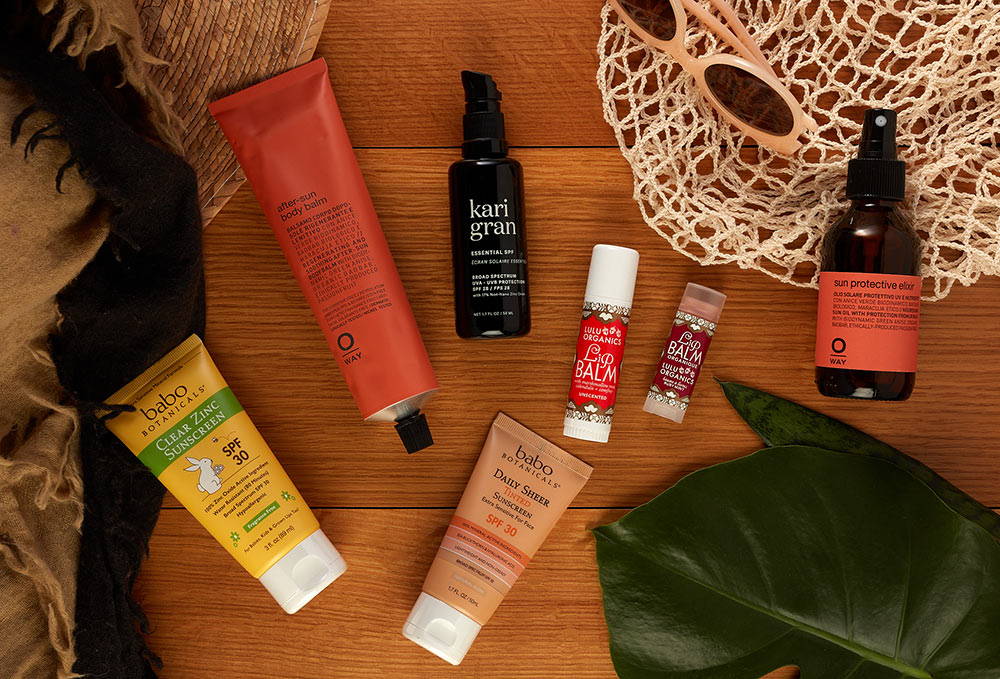 Effective sunscreens, safer ingredients

Thankfully, some great products rose to the surface. There are a growing number of brands out there who have perfected mineral sunscreens. These gems are formulated without toxic chemicals, go on smooth, and offer broad spectrum protection from both UVB and UVA radiation.
The active ingredients in mineral sunscreens are zinc oxide and titanium dioxide. Both are extremely effective at blocking the sun's rays and aren't likely to cause damage when they break down from solar exposure. The EWG deems these to be much safer alternatives with no evidence of hormone disruption or skin irritation. Zinc oxide, in particular, offers exceptional protection from UVA rays.
We have researched and tested them all and these are the best:
Babo Botanicals Daily Sheer Tinted Sunscreen– Broad Spectrum SPF 30
We love Babo's tinted sunscreen, formulated especially for the face. It goes on sheer and feels like you're putting on lightweight makeup. Not only are 100% of the active ingredients mineral-based, but the people at Babo have gone the extra mile to include sea buckthorn and hyaluronic acid, which give your skin an extra dose of TLC.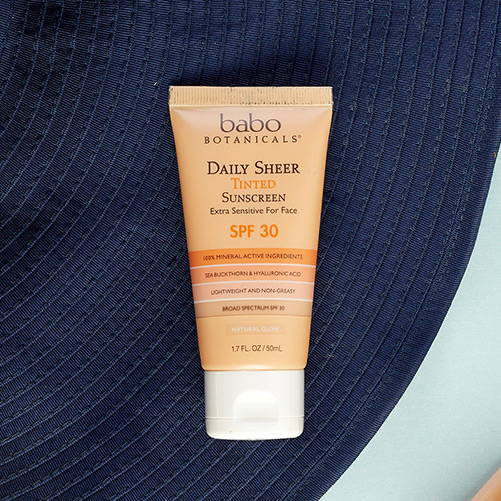 Whether your hair is color-treated or natural, OWay's Sun Protective Elixir acts as a barrier to the damaging effects of summertime activities. Exposure to harsh pool chemicals, salt, sand, and of course, sun, can all cause your hair to become dry and lose its healthy sheen. OWay's formula uses natural ingredients to protect and rehydrate your locks.
If you do get a little too much sun, Oway's body balm is a welcome treat to alleviate burning skin and combat free radical damage. It smells amazing and is essential to the sun-lover's anti-aging skin care regimen.
OWay After-Sun Hair & Body Bath
This is a summer vacation must-have. Time spent at the pool and beach can leave your skin and hair feeling dried out and dull. OWay's all-in-one solution restores skin and scalp health by gently detoxifying and moisturizing.
The After-Sun version of OWay's incredible line of hair masks, this restorative conditioner is formulated especially for post-sun exposed hair. A special combo of natural oils and extracts repairs and nourishes hair fiber.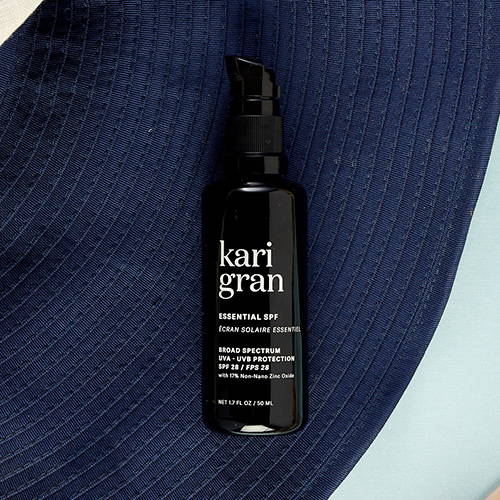 Kari Gran Essential SPF– Broad Spectrum SPF 28
We're most impressed with Kari Gran's take on sunscreen. Its consistency is serum-like. It contains little light reflectors, making it super effective against the sun's rays and also very pretty. We also appreciate that this Seattle-based company packages their product in recyclable glass.
Top 10 Sun Protection Tips
Gorgeous, glowing skin doesn't come from baking in the sun. Smart suncare keeps you looking radiant and protects you from irreversible sun damage, wrinkles, and skin cancer.
We've compiled our top 10 tips for sun protection and created a daily skincare routine to help you keep your skin healthy and looking youthful year-round.
---